Friday 2/8 - #MeToo: Anita Hill and Beyond
Submitted by

oco217

on Fri, 02/01/2019 - 9:57am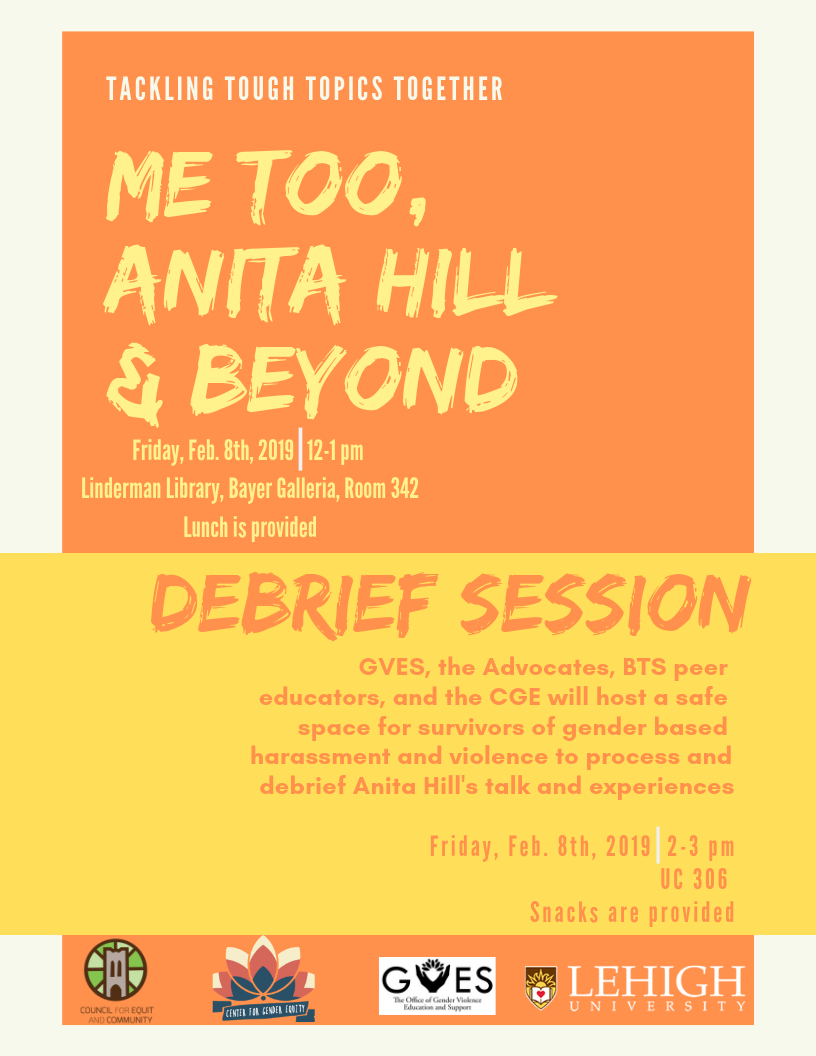 Anita Hill sparked a national conversation 26 years ago when she testified at the Supreme Court confirmation for Clarence Thomas about the sexual harassment she experienced in the workplace. On Feb. 7, she will speak at Lehigh about the events before, during, and after those hearings, which brought her unwanted fame, decades before the #MeToo Movement.
Join us on Friday, Feb. 8, from noon-1 p.m. for a Tackling Tough Topics Together dialogue about #MeToo, exploring intersecting roles of gender, race, class and sexual orientation in events such as Anita Hill's testimony. More recent accusation of sexual assault are present in the confirmation of Supreme Court Justice Brett Kavanaugh; the "Surviving R. Kelly" documentary; and firing of "Bohemian Rhapsody" director Bryan Singer.
Are their commonalities or distinctions? What are the impacts?
The dialogue will take place in the Linderman Library Bayer Galleria, Room 342. Lunch is provided. All are welcome.
If you are an individual with a disability and need accommodations in order to participate in this event, please contact Maria Zullo at maz317@lehigh.edu or (610) 758-4152.
GVES, the Advocates, BTS peer educators, and the CGE will host a safe space for survivors of gender based harassment and violence to process and debrief Anita Hill's talk and experiences from 2 to 3PM at UC 306 following the Tackling Tough Topics Together session.
We look forward to seeing you!
Brought to you by the Council for Equity and Community (CEC) Education and Dialogue Working Group, Office of Gender Violence Education and Support(GVES), and the Center for Gender Equity (CGE).
cec.web.lehigh.edu